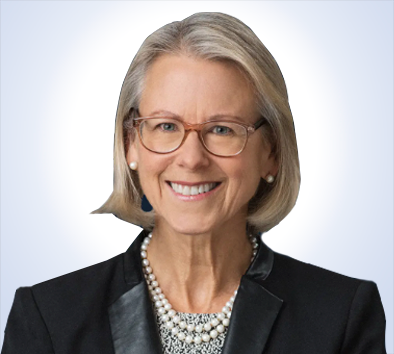 D. Ellen Shuman
Board Member
Ellen Shuman has worked in the field of endowment management for over 30 years, serving institutions of higher education and philanthropy. She has expertise in investment management, best governance practices, and has championed the careers of many women leaders in the field of institutional investing.
In April 2020, she embraced public service through her appointment by Governor Lamont to the State of Connecticut's Investment Advisory Council (IAC), where she serves as the Chair. The Council advises the State Treasurer on the investment of the State's pension assets, totaling $45 billion as of June 30, 2021. In 2013 Ms. Shuman co-Founded Edgehill Endowment Partners, an SEC-registered investment firm that operates as a full-service Outsourced Chief Investment Office (OCIO) for the endowments of a limited number of mission-based institutions. Edgehill manages approximately $2.5 billion on behalf of its clients. In early 2020 she transitioned to a strategic role at Edgehill. Prior to founding Edgehill, Ms. Shuman spent her career at the Yale University Investments Office (1986-1998) as Director of Investments, and as the Chief Investment Officer of Carnegie Corporation of New York, a private foundation (1999-2011). Ms. Shuman received the Institutional Investor Magazine Lifetime Achievement Award in 2014. She was appointed to the Investors' Committee of the President's Working Group on Financial Markets in 2008, which issued a report on "Principles and Practices for Hedge Fund Investors" in January 2009. Her commitment to non-profit institutions is exemplified by her role as a Trustee at her alma mater, Bowdoin College, for 21 years (1992-2013). Currently Ms. Shuman is on the board of JBG Smith (NYSE: JBGS), a REIT based in Washington, D.C.  JBGS was selected by Amazon as its HQ2 development partner in 2019. In 2019 Ms. Shuman was recognized by Women Inc in 2019 as one of the 100 Most Influential Board Members.
Ms. Shuman received a B.A., magna cum laude, from Bowdoin College; an M.P.P.M. from the Yale School of Management; and earned the CFA designation in 1992.